Out of control - A 4-CD benefit compilation for antimilitarists in Berlin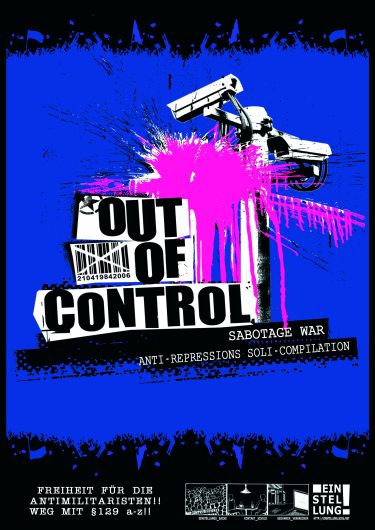 On the german label "Twisted Chords" soon will be released the benefit compilation "Out of Control". It's a benefit for people in Berlin who are accused of being members of a radical left group called "militante gruppe" ("mg" or "militant group").
"Out of Control" consists of 4 CDs - 3 music CDs with more than 220 minutes and 60 bands from all over - and a security-data-CD with programs to help protecting your computer against observation & surveillance (take care: only in german!). One CD comes with the best in political underground hip hop, one CD with tons of great punk rock while the 3rd CD includes a great style mixture consisting of drum..n..bass, dub & punk.
On July 31th of 2008 three anti-militarist activists - Axel, Oliver, and Florian - were arrested because of a supposed arson attack on miltary vehicles situated on the site of a German arms manufacturer MAN in Brandenburg/Havel. The same day these three were arrested, another activist, Andrej, was also detained and the homes and work places of three other persons were searched. The accusation against all seven is "membership in a criminal organisation" (§129 of the German criminal code) called "militant group" , a clandestine group that has been active since 2001 - despite intensive efforts, the police still doesn't know who's part of the group... End of september saw the beginning of the ongoing trial against Axel, Oliver, and Florian.
Download (1,8 MB): CD 2, Song 1. Revolte Springen: Grüne Au

Order it here: www.twisted-chords.de